DC Men Kicking Ass
Jul 27
In the kingdom of the blind fanboys, the troll king is… KING!
I love Dan Didio hes the king of trolls today.

Thats a really cool cosplay, I think thats brave and the bold batman? is it? lulululaaa
THE TROLL KING WILL REIGN SUPREME!!!
An Interview with the Batgirl of the SDCC panels -
There were lots of stories that came out of SDCC this year, but the one that has caught the attention of the comics community was a woman who dressed up as Batgirl to ask questions about female characters and creators at several DC Comics' panels. I first became aware of her questions while following the live feeds of Newsarama and CBR. If you read this blog you know I have many of the same concerns she has. After seeing the reaction of some attendees and reporters about how her questions and those of others regarding female characters and creators were being handled, I compiled a post of that coverage.

That post has now become the most viewed ever for this blog. Her appearances at the panels has also generated other blog posts and many comments. She's been called everything from a hero to a bully. But now for the first time we can hear from her.

Yesterday I caught up with Kyrax2, the "Batgirl woman" as she has become known, to find out more about what drove her to ask these questions and her thoughts on the reactions she received.

If you haven't seen this already, please go read it.  Janice/Kyrax provides an illuminating look atwhat went down at San Diego last weekend, and as far as I'm concerned show an unbelievable microcosm of just about everything the comics industry does wrong with regards to issues of diversity of talent and characters, all the way down to basic PR ineptitude.  I'm almost at a loss for words at what to say, but I can see these events fitting in to many a debate in the future.
See, it's like I said… GAME OVER, I WIN!!!!!!!
Muwaahahahahahahahahaha!
(via ladiesmakingcomics)
I would just like to say that now, more than ever, I am sure that I've won the war.
Jul 05
Fact of the matter is that the aging base of existing comics readers is causing the percentage of older readers to go up every year… but I don't see the companies doing anything to continually court their maturing fan base!!!
Everyone is always like "Oh, what are they doing to get new readers?" FUCK NEW READERS! What are the companies doing to attract even more older readers? Abso-fucking-lutely nothing, that's what.
But I think the New DC 52 is the perfect chance to reverse this trend! For example, the Bat Family isn't big enough. I can count the number of Robins on one hand!!! So let's do something about that.
Alfred is the perfect character to put in a Bat suit. He could be the Silver Bat, giving wise advice to the rest of the Bat characters AND fighting crime until about 4 PM, when he has to split to grab the early bird special at Shoney's.
Next up, bring back Leslie Thompkins as Dr. Bat, the costumed medic and silver-haired spitfire! She could be like the grandmother Damian never had (because his grandfather is like a million years old or something, right?)
And, finally, having Thomas Wayne in Flashpoint is the PERFECT opportunity to keep him in continuity… as Batman, Sr.!!! The tension between Batman, Sr. and the Silver Bat will be fantastic — one fathered Batman, while the other one raised him.
Anyway, that's my two-cents. Take it or leave it. Just don't leave the geezers behind! They want comics too, and the fans deserve to get what they want.
Jul 03
DC Comics: Before and After
The old DCU: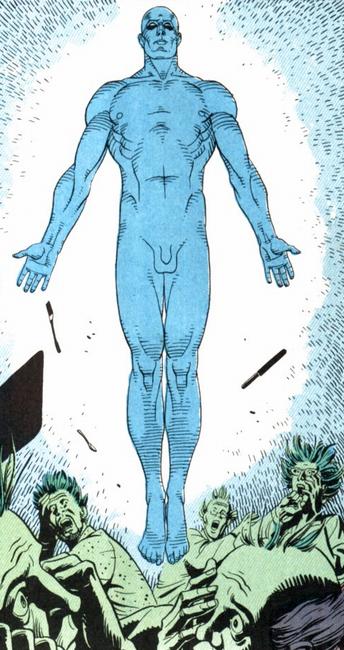 The new DCU:
She doesn't know what she wants.
(Source: comicscavern, via esc0-deactivated20131115)
nice rod.
(via dcwomenkickingass)
Jun 27